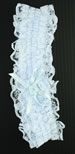 It appears that brides to be have a hard time if they want to wear something new and something blue. Wearing something blue is difficult especially if you are wearing white or ivory.
Well now at Bridal-Jewellery.co.uk we have the answer to get around this, a blue elasticated garter belt.
We also have these new garter belts in different colours, including ivory garter belts, white garter belts and blue garter belts.
More information about the garter belts can be found on our wedding accessories page.